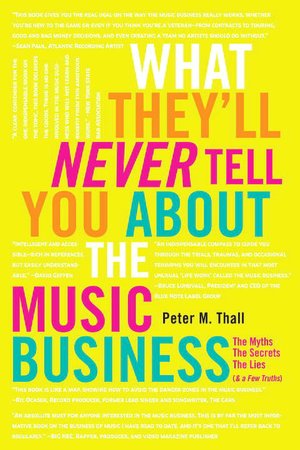 What Theyll Never Tell You About the Music Business By Thall, Peter M.
"For someone on the way up, this book is a must; for everyone else, it's a bible."—Danny Strick, co-President, SonyATV Music Publishing, Inc.
This completely revised and expanded edition of
What They'll Never Tell You About the Music Business
is a must-have reference not only for aspiring songwriters, record producers, and performing artists but also for record company executives, personal and business managers, agents, and attorneys. You'll learn:
*How the Internet has affected every aspect of the music business, from copyright and royalty issues to censorship
*How many musicians have seized do-it-yourself Internet opportunities to create successful business models
*How satellite radio, digital jukeboxes, and video games are affecting the music market
*How artists can maximize their chances for long-term financial health
*How the royalty pie is sliced—and who gets the pieces
*What snares and pitfalls to avoid when signing an
employment contract
*And much more.
"The music business is complicated, and this book is very helpful in deciphering its pitfalls, opportunities, and challenges."—Clive Davis, Chief Creative Officer, Sony Music Entertainment Worldwide
"Thall's book simplifies a complicated business, and it provides the reader with knowledge that otherwise is available only to those on the inside."—Scott Francis, President, Warner/Chappell Music and Chairman & CEO, Warner/Chappell Music U.S.
"Whoever reads this book is getting expert advice from one of the most respected and knowledgeable players in the music industry today. I wish this book was available when I was looking to begin my career in the music business."—David Renzer, Chairman & Chief Executive Officer, Universal
Music Publishing Group
"Intelligent and accessible--rich in references, but easily understandable."—David Geffen
"A clear contender for the one indispensable work on the topic, this book delivers the goods. There is no one involved in the music business who will not learn and benefit from this ambitious work."—New York State Bar Association